Season 2007-2008
Hearts 1-0 ICT FC 26th April 2008

In what looked like a nil nil game, Hearts looked the most likely to score if there was going to be a winner. After a number of poor finished when through on Michael Fraser Hearts finally broke the deadlock on 80 minutes. A nifty one two between Gary Glen and Ruben Palazuelos was followed by a fine finish by Glen.

Craig Brewster felt the team didn't perform as well during the second half: "Second half we didn't really assert ourselves at all and couldn't keep the ball... I think most people thought it was a nil-nil but credit to Hearts... Glen played a one-two and finished well."

Stevie Frail was delighted with Hearts' latest win: "Second half we didn't really assert ourselves at all and couldn't keep the ball... I think most people thought it was a nil-nil but credit to Hearts, Glen played a one-two and finished well."

26-Apr-08, 91 Photos


"...our confidence drained away... "
ICT FC 0-3 Hearts 1st March 2008
Hearts took charge of today's game. Two goals in the first half and one in the second from the Edinburgh side saw them take all three points and move to within one place of a top six position. On 22 mins Christos Karipidis headed home an Andrew Driver corner. Then on 33 mins Calum Elliot ran on to Christian Nade's cut-back and slammed home past Michael Fraser. Early in the second half a poor back-pass by Ian Black was intercepted by Elliot. His initial attempt was blocked but he regained possession and chipped Fraser on 47mins. Caley Jags' best chances fell to Marius Niculae, but the two close range opportunities failed to be converted to goals.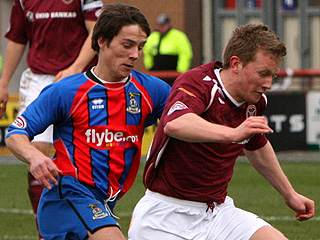 After Caley Jags' fourth defeat on the trot Craig Brewster said: "They got a lift from the two first half goals and our confidence drained away. Now we need to pick up and it's my job to lift everybody. We're not too far away from the top six but we need to get back to basics and start defending better."
Stephen Frail however, was delighted to see Calum Elliot score twice: "Calum Elliot has come in for a lot of criticism but he's chipped in with two goals and the second finish was real class..."

01-Mar-08, 59 Photos
"... I am delighted to send the fans home happy again..."

Hearts 2-3 ICT FC 22nd December 2007

This was an incident packed five goal thriller and a three point Christmas present for the Caley Jags support. Russell Duncan blasted the ball past Eduardas Kurskis from long range on 22 mins. John Rankin doubled the lead from the spot on 52 mins after Marius Niculae was brought down by Kurskis. Christophe Berra pulled one back for Hearts on 62 min when he headed past Michael Fraser. Then on 87 mins Caley Jags man of the match, the entertaining Kurskis, was sent off to leave Hearts with ten men. Hearts levelled the score from a penalty on 90 mins after Phil McGuire brought down Andrius Velicka. In the final seconds of extra time the ball fell to Graham Bayne who blasted home from 15 yards.

A delighted Craig Brewster said: "It was certainly some finish to the game today, it had everything from goals to sending offs but I am delighted to send the fans home happy again. I have a dressing room full of delighted players. .."

Stephen Frail said: "It's probably the worst in my whole time involved in football. In my short time in coaching this is the worst I've ever felt."

22-Dec-07, 86 Photos
"This could be the turning point for us."

ICT FC 2-1 Hearts 22th September 2007

Caley Jags managed to get their first points of the season, taking all three from visiting Hearts. Hearts were first to score, largely against the flow of play, on 34 mins. An unfortunate Ian Black deflection saw Andrew Driver's cross sent into the home net. A Barry Wilson volley was parried by Steve Banks on 63 mins, it came down almost on the goal line and was knocked in by Denis Wyness. In the dying minutes of extra time an Alan Morgan cross was fired home by Craig Brewster.

Craig Brewster was pleased with the teams' first league win of the season: "A goal down from an own goal... but we didn't let the heads go down... we didn't make things happen in the first half... it was a really good second half performance and I kept believing we would get something. This could be the turning point for us."

Hearts assistant manager Stephen Frail acknowledged his side were "sloppy": "Passes went astray and we didn't really have the same level of performance as we had last week against Rangers... we handed the initiative to Inverness in the second half... credit to them for coming back into the game."

22-Sep-07, 134 Photos
Season 2006-2007
Hearts 1-0 ICT FC 10th February 2007

Caley Jags failed to impress today when they met Hearts in Edinburgh. There were early chances from Graham Bayne and Barry Wilson but they were not converted to goals after impressive saves by Steve Banks. The match was decided on 82 mins when Hearts' substitute Michal Pospisil scored with his first touch of the ball.

Charlie Christie said, "... it is the worst we have played this year. Today we looked like the Caley Thistle of old today, when we first went into the SPL and we were happy just to lump the ball away instead of passing it like we can. We are better than that now so it is disappointing."

Valdas Ivanauskas praised his team's resilience. "... The boys were very, very tired after last weekend, which was a big shock for the club and for the players... I don't think they deserved to lose that game but that's football... the team are very tired but very pleased to beat Inverness."

10/02/07, 112 Photos
ICT FC 0-0 Hearts 25th November 2006

Caley Jags shared the points today after a goalless encounter with Hearts. After a strong start by Hearts, Caley Jags came more into the game and had a number of opportunities to score. Both keepers were on form and made a number of fine saves. A draw was seen as a fair reflection on the game.

Caley Jags manager Charlie Christie was delighted with the team's performance today: "...I think we showed great endeavour to go and win the game and for Inverness Caledonian Thistle to peg Heart of Midlothian back for long spells in the game especially in the second half was very pleasing... I was delighted with the full backs' contribution today... " Hearts' sporting director Alex Koslovski said: "... We are a little disappointed, but, maybe, a draw was fair... Inverness is a hard place to go to, so we expected a hard game."

25/11/06, 60 Photos
Hearts 4-1 ICT FC 26th August 2006

Graham Bayne headed into the net on 31 minutes, to equalise after Pinilla put Hearts ahead on 20 minutes. At half time Caley Jags were a goal down, again, after Mole scored on 42 minutes. Goals from Driver (80 mins) and Aguiar (90 mins) ensured a comfortable finish for Hearts.

After the match Charlie Christie said, "We have played worse in games and come away with something... History books will say that it was 4-1 but I don't know how we lost by that score... It was as good as we played since we beat Hearts 3-1 in the Scottish Cup in 2002."

26/08/06, 90 Photos
Season 2005-2006
ICT FC 0-0 Hearts 11th March 2006

One album, consisting of 62 photographs, by Peter. [Album 11/03/06]
Hearts 0-0 ICT FC 10th December 2005

Album consisting of 23 photographs. [Album 10/12/05 ]
ICTFC 0-1 Hearts 17th September 2005

Album consisting of 45 photographs by Peter. [Album 17/09/05 ]
Season 2004-2005
Hearts 0-2 ICT FC 12th March 2005

Album consisting of 41 photographs. [Album 12/03/05 ]
ICTFC 1-1 Hearts 11th December 2004

Album consisting of 53 photographs. [Album 11/12/04]
Hearts 1-0 ICT FC 25th September 2004

Album consisting of 49 photographs. [Album 25/09/04]